The tragic incidents and unfolding human tragedy in Israel and the Gaza Strip have impacted everyone, and many people have concerns about how this could turn into a wider dispute during a period of great uncertainty in the world. Rightfully, the immediate attention of the public is directed toward the fate of individuals caught up in the conflict's turmoil, either directly or indirectly. Even if it may seem difficult or unlikely, we can only hope that a quick peaceful solution may be found.
It might seem somewhat inappropriate at this point to be concerned about how current events would affect investors and their portfolios. Nevertheless, offering some reassurance may be helpful given that many people feel a great deal of anxiety over global geopolitical events, the cost of living problem, and the current landscape of politics in many nations, not least the UK and the US.
The Israeli stock market has dropped by almost 7% in the days following the tragic events that occurred over the weekend, in part as a result of the shekel's depreciation in the Israeli currency. The Israeli stock market, which is categorized as a developed market, makes up just about 0.15%[1] of the global equities markets overall (developed and emerging markets combined).  As a result, the impact of the Israeli stock market on a well-diversified portfolio will be negligible. Other asset classes haven't been significantly impacted thus far. That is the easy part.
Figure 1:  Asset class returns from 06-10-2023 to 11-10-2023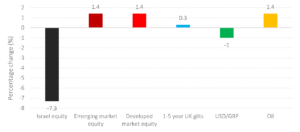 Morningstar Direct © All rights reserved. See footnote for data uses[2]. In GBP terms.
Trying to evaluate future geopolitical, economic, and investment market scenarios, as well as their likelihood of occurring, is the hard part. The human mind tends to work overtime at this point in history, especially that of market commentators, trying to make sense of the huge interconnectedness of potential outcomes by conjuring up believable stories. These typically take the form of narratives with conditional probabilities that start with "If A happens, then the impact on B could be material, which might trigger C to fall." In one hypothetical scenario, A = oil price rise, B = higher inflation, C = bond prices. Worrying news headlines may result.  However, what can one do with such information? The truthful answer is not very much.
The good news is that systematic investors with relatively long time horizons can largely disregard these stories and rely on the reality that they are all, collectively, already reflected in today's market values. Unless an investor has superior knowledge (or uses information more effectively than others), he or she should refrain from trying to outguess markets at this time and rather remain prudently invested in their long-term strategy.
The equity market could decline and things could turn out worse than anticipated. No-one knows. A flight to safe haven assets, such as buying US Treasury bonds, might drive yields down and bond prices up. Again, no-one knows. What investors with highly diversified portfolios are aware of is that the countries, sectors, and individual companies they own are diverse, and the bonds they hold are generally quite defensive.  This broad diversification should see them through any financial storms that they could face, today or in the foreseeable future, as it has done successfully over the decades. Investors who hold onto their investments should eventually benefit, as the figure below demonstrates.
Figure 2: Global equities and world events Aug 1998 to 11 Oct 2023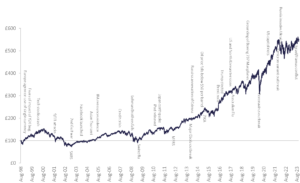 Data: Morningstar Direct © All rights reserved – Global equities – Vanguard Global Stock index $ Acc. In GBP
The key is to stay invested and avoid making any emotionally driven decisions – perhaps ones that could be affected by news headlines or your personal narratives – and to remain invested. Get in touch with us if necessary; we would be happy to sit down and talk through your plans with you.
We hope for better times ahead for everyone.
Other blog posts you may find interesting:
Continue your search with other blogs below:
---
Risk Warning
The information, including but not limited to, text, graphics and other material contained on this page are for informational purposes only and do not necessarily reflect the views of Private Capital Limited. The purpose of this page is to promote broader understanding, knowledge and awareness of various financial, behavioural and economic topics for educational purposes only. It is not intended to be a substitute for regulated professional investment advice. Always seek the advice of a regulated financial adviser with any questions you may have regarding your specific investment needs or concerns. Reference to specific products is made only to help make educational points. Information contained herein has been obtained from sources believed to be reliable but is not guaranteed.
Private Capital Limited does not recommend or endorse any strategies or ideas mentioned in this email. Reliance on any information appearing in this email is solely at your own risk.
Past performance is not indicative of future results and no representation is made that the stated results will be replicated.
---
Use of Morningstar Direct© data
© Morningstar 2023. All rights reserved. The information contained herein: (1) is proprietary to Morningstar and/or its content providers; (2) may not be copied, adapted or distributed; and (3) is not warranted to be accurate, complete or timely. Neither Morningstar nor its content providers are responsible for any damages or losses arising from any use of this information, except where such damages or losses cannot be limited or excluded by law in your jurisdiction. Past financial performance is no guarantee of future results.
---
[1]     Based on its allocation in the iShares MSCI ACWI ETF USD Acc
[2]     Using product data as proxies: iShares MSCI Israel ETF, Vanguard FTSE Emerging Markets ETF, Vanguard FTSE Developed Markets ETF, iShares UK Gilts 0-5yr ETF GBP.  Other: Brent Crude – NYMEX: BZW00, US/GBP Yahoo! Finance.